Goal Setting is the key to success and why you should try 10X-ing your goals
We all know that setting goals is the key to success, but what if we told you there was a simple hack that could take your goal-setting game up a notch? That's right — it's time to 10X your goals!
The concept of 10X-ing your goals has been around for some time now, and it basically means setting objectives that are ten times bigger than average and working ten times harder than average in order to achieve them. It takes extraordinary thinking and effort to get extraordinary results, so why not give this technique a try? In this blog post, we will discuss why taking massive action can help you reach new heights of success. So let's get started on Goal Setting: 1 simple hack that actually works!
What is the 10X Rule for success and how it can help you achieve extraordinary results
Goal-setting is essential for any type of success, and the 10X Rule can help you achieve extraordinary results. The concept behind the 10x Rule is that any goal you set should be ten times greater than your usual objectives. This incredible stretch goal forces you to think outside the box when developing strategies to reach it and helps keep you motivated and on track despite any obstacles that arise. Reaching this extreme level of success isn't just about pushing yourself harder; it's about using your creativity and ingenuity to hone in on new ideas, strategies, and techniques that will not only help you reach your target faster but also provide a much higher level of satisfaction. By challenging yourself with the 10X Rule, you can tap into a whole new level of potential for success!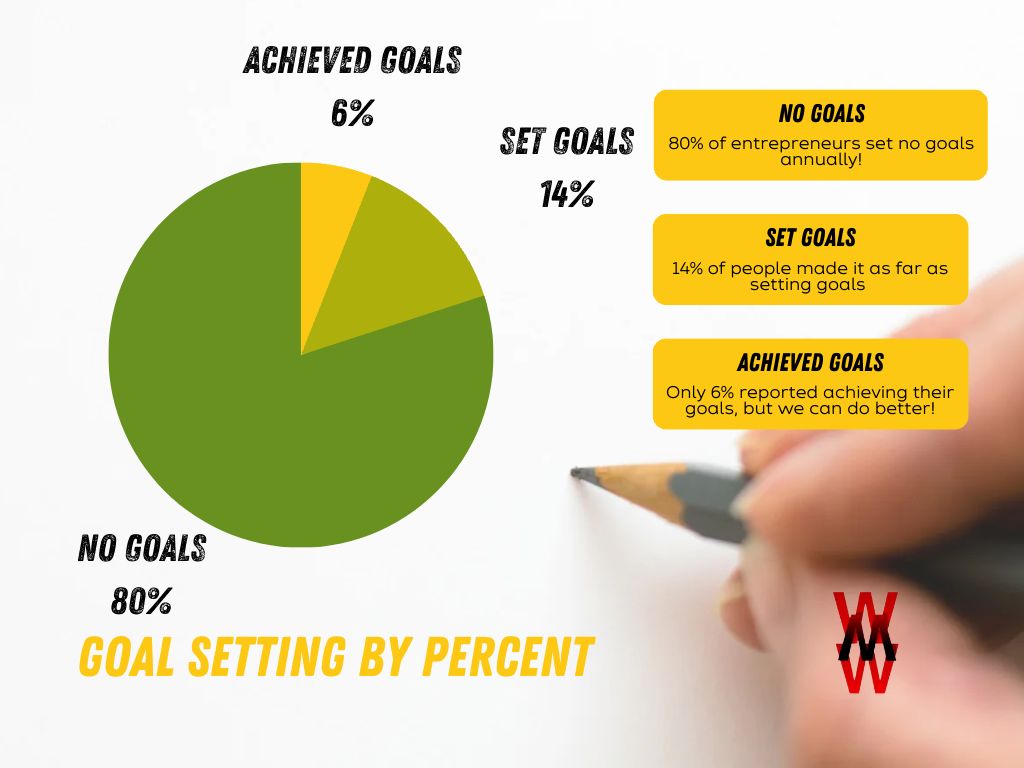 How to set higher than average goals with the 10X Rule
Goal setting may seem challenging, but the 10X Rule can help take it to the next level. If you're aiming for average, then an average outcome will be your result.  By increasing your usual expectations by ten times, you'll find yourself striving for higher-than-average goals. This is a surefire way to guarantee reduced mediocrity and increased opportunity for success—if you can dream it, you can make it happen! The 10X Rule is also great because it encourages creativity and taking risks; after all, if you're looking for significant achievements then it stands to reason that extraordinary action is needed, so don't shy away from the unexpected. Step out of your comfort zone and stop daydreaming about all of your big dreams—go achieve them!
Benefits of setting larger, more ambitious goals
Goal setting is the key to success. Too often people set their goals too low and barely challenge themselves. Setting larger, more ambitious goals raises your standard of success and pushes you to think bigger and aim higher. Whether it's a 10x mindset or a goal that is 100x what you thought was possible, setting lofty goals gives you something hard to reach for and ultimately will result in greater achievements. Regardless of how often you may fall short your goals are always evolving and ever-changing as you reach new heights. So come on, set larger, more ambitious goals – it's time to start reaching for the stars!
Tips on taking massive action to reach your goals faster
Goal setting is the first step on the path to success. But taking massive action and not sitting by idly is how you will reach those goals faster. To get started, figure out what you need to do in order to reach your goal and break that into smaller more achievable tasks. Then it's all about following through on those tasks and never giving up, no matter how challenging things get. Taking massive action means pushing yourself further and following through on opportunities that take you closer to your goal even if it isn't always 100% comfortable. You time investment may seem hard today, but this relentless drive for success won't stay with you forever!
Address the high-level actionable items first!
High level actionable items are like the foundations of a house; they are what make up the bigger picture. Don't wait to address the smaller details and nitpick those foundational elements that will determine your overall success, step up and tackle those tasks first! High level actionable items form the basis of achieving any kind of vision, so make sure they are prioritized. Don't procrastinate, you won't regret it.
Goal setting is the foundation of success, and if you want to reach your goals faster than ever before it's time to start using the 10X Rule. The 10X Rule encourages creativity, risk-taking and extraordinary thinking that will help you achieve massive success with minimal effort. So don't be afraid to dream big; set larger, more ambitious goals for yourself and take massive action towards achieving them! With this goal setting hack in your toolbox, there's nothing stopping you from reaching new heights of personal achievement and satisfaction. What are you waiting for? Let's get started on taking control of our destinies today – let's do this!